Stay On Course
We know that it can be a challenge to keep track of what is happening with all of your students. A week can quickly turn into a month and when you sit down to look at what your students have done, you might have more questions than answers. We understand how much you do and how hard it is to keep tabs on every kid. For these reasons, Quindew has developed some amazing features to help you know exactly what is happening with each of your readers.
Gradebook
Quindew Gradebook tracks participation points for each Quest that students complete. You can see the entire class activity at a glance.
On Track Notifications
On your Class dashboard, Quindew notifies you when your students are on track or behind with their Quests (reading lessons).
Real-time Flags
On your Class dashboard, helpful icons will flag your English language learners and students who are reading far below grade level.
Weekly Performance Updates
Each week, you will receive a Quindew Weekly Performance Update email.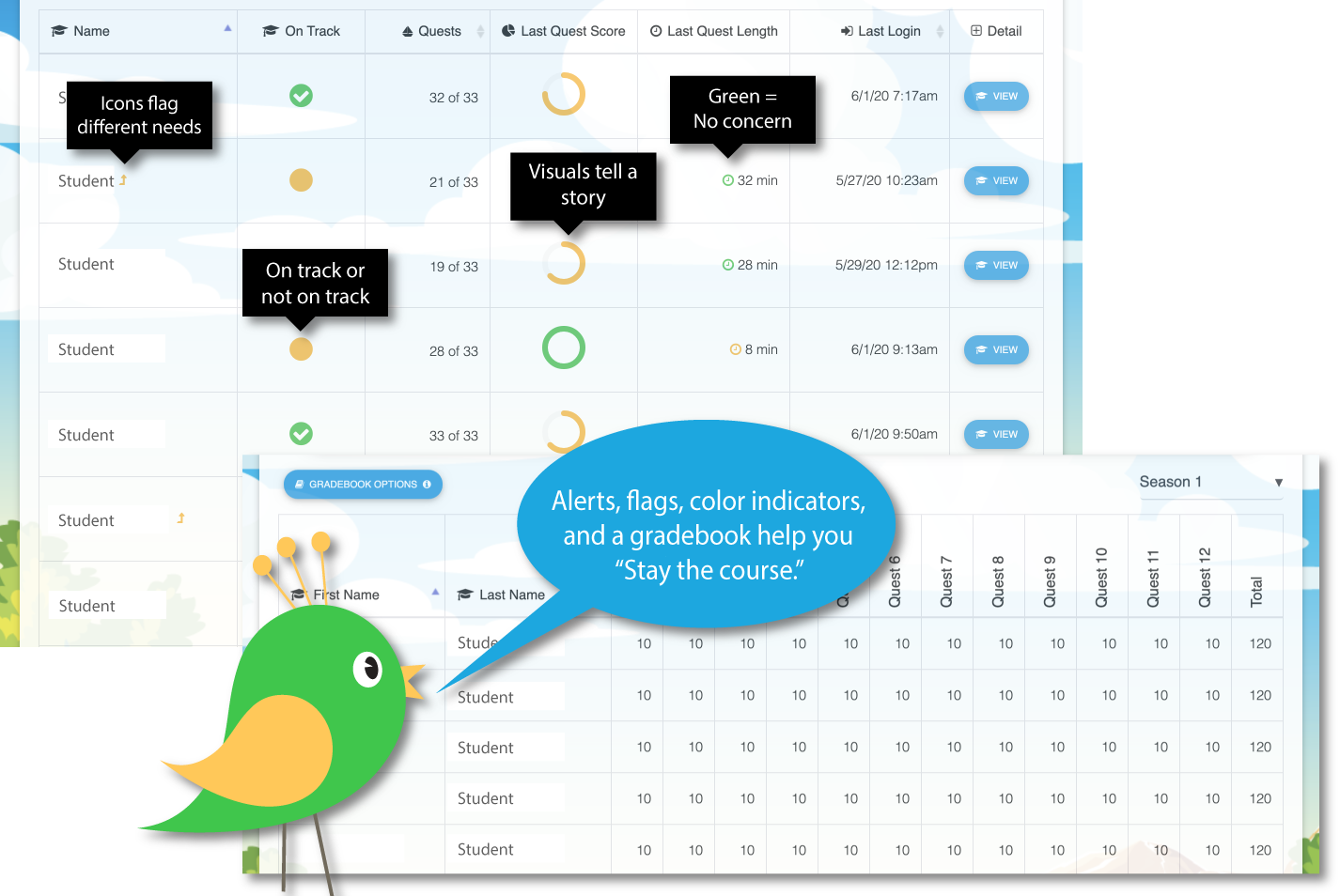 Classroom Activity: Reviewing Data
After students have completed 6-8 Quests (or half of a season), meet in small groups to go over some of the data you are seeing. Let your students know that you are aware and informed about their progress and activity on Quindew. You might also show them the gradebook so that they understand their effort is being documented and possibly counted in the class gradebook. Celebrate successes and point to things you would like to see happen more often. For example, if you want to see more green check marks under the "On Track" column, tell your students, "I want to see more green here." You can also draw their attention to the time spent on Quests. If there are times in yellow, talk to them about how much time they should be taking to complete each Quest (15-25 minutes). Go over Quindew's reading process and share with them how they should be taking advantage of everything Quindew offers.
Did you know?
Quindew Class dashboards are designed to make teachers' jobs easier. The dashboards provide layers of useful information in one convenient place. Hover over icons, dates, and images to learn more. There are lots of learning moments on Quindew. What will you learn?