Fun and Engaging
Quindew is successful with kids because it provides layers of engagement. Students are pushed to work hard and are rewarded for their hard work. When students achieve their goals, they earn Quindew Currency, they collect reading badges for doing great things, and they personalize their reading experience. Kids enjoy Quindew because Quindew was made for them.

High Interest Texts


Every text at every grade level is hand picked. Quindew has high interest texts in a variety of subjects including science and social studies.

Badges


Students can earn badges for answering 3 questions correctly in a row. If they continue the streak, they earn more badges. They are all working toward a gold crown which is a perfect score.

Weekly Challenges


Each week, students are challenged to improve or grow by doing 1% better than the week before. If they meet their challenge, they are rewarded with blue diamonds--Quindew's game currency.

Currency


Everyone enjoys buying things. The reward is even sweeter when you earn it. Students earn blue diamonds that they can use to buy unique worlds and coaches, customizing their reading experience.

Backpack


Quindew's Backpack is a type of store where students can buy and collect different worlds and coaches. Students see everything in the store so they can budget their diamonds and work extra hard to get what they really want.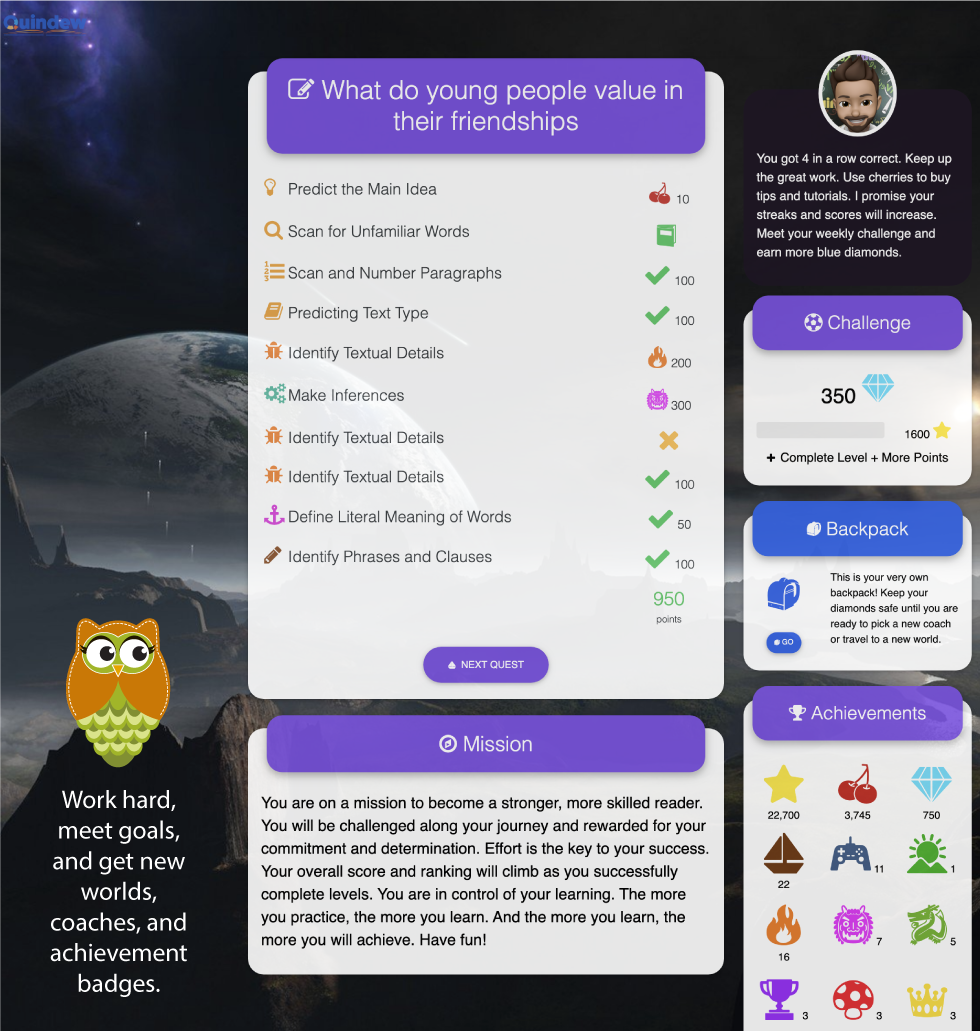 Classroom Tip: Preview the Program
Talk up the Quindew features listed above. Your Quindewers will love to learn about the program. Let them know why you have chosen Quindew and share with them why you are excited about this reading adventure.
Did you know?
The co-founder of Quindew is a current classroom teacher. In one of his elective classes, he asked his students to help him with Quindew. He wanted to know what 21st century kids would like in a reading program. Each week, he brought to the class updates to the program. The students would test the updates and new features and give immediate feedback. The co-founder engaged his students in this real-world experience for 6 months. The kids learned a ton about web design, business models, and reading platforms. The co-founder learned through his students' eyes how to make a reading program that is fun and engaging.